I also play with several other constellations.
Everybody Gets Lonely Orchestra (EGLO)
Some video clips here, here and here!
Everybody Gets Lonely Orchestra (big picture above) is a band that with the motto "Reclaim R & B!" plays dance music from the time when Soul and R & B was not mass produced electronical music, but super groovy live music with powereful horn sections and muscular Hammond organs. Think Booker T & the MGs, Sly & the Family Stone... The band was created in 2009 as the in house band of the club Everybody Gets Lonely Sometimes, which was held at the venue Debaser in Malmö, and during several seasons there, the band did a long row of gigs, and had asubstantial number of Sweden's greatest artists as guest, such as Ebbot Lundberg (Soundtrack Of Our Lives), Ola Salo (The Ark), Joije Wadenius, Titiyo, Robert Jelinek (f d The Creeps), Elin Sigvardsson etc. The band also does festival gigs, private functions etc, and recently appeared on Swedish National television in the children's program Dilemmas with Doreen. Watch a clip here!
EGLO is: Rasmus Svensson drums, Jens Andersson percussion & voice, Magnus Svenningsson bass, Pär Moberg baryton saxophone,  Mikael Gökinan guitar, Björn Edqvist trumpet, and Torbjörn Righard tenor saxophone.  At most gigs, the band is also complemented with the vocal trio The Clits: Alexandra Hamnede, Dolores "Dolly" Humovic and Alice Samoilova.  And also, when the arranger so wishes, with additional guest vocalists. Besides that, Alice often also doubles as DJs, playing from their large stock of high class recordings of music from the era. EGLO is simply the solution to any Party issue you might have!
At the moment, the band is working on the project Green Soul – an album for children with soul songs about environmental problems and how they can be tackled.
Amerise/Sciutto/Massino with guest Moberg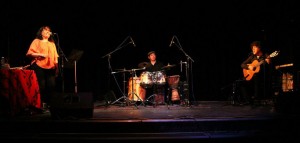 A trio consisting of Roberto Amerise, guitar and vocals, Isabel Sciutto, vocals, flute and melodika, and Fernando Massino, percussion. I occasionally join the band as a saxophone player. The trio plays Argentinian music, and it's members are born there, but are since many years living and working in Sweden and Denmark. A cd was released in 2015. Here are some samples from a live concert in Denmark in 2014.
"Anandretta"
"Bombo Leguero piece!
"Cassi Cassi"
"Ivanco"
"Vuelvo al Sur"
Moberg Carter

A duo with me and the Irish singer-songwriter John Leo Carter (vocals, guitar, mandola). We play John's songs and some traditional Irish songs. We have previously played a number of concerts at the Swedish island of Öland (Where John Leo lives nowadays). Read more and listen to music at the web page of John Leo!
World Mix Orchestra
In the spring of 2005, Pär Moberg was asked by the Regional Music Trust to put together a band consisting of some of all the great folk musicians from all over the world living in and around Malmö. The repertoire was created by the members in cooperation, and consisted of traditional and newly composed folk music from all the traditions we represent. The group has cooperated both with Malmö Symphony Orchestra and Malmö Opera Orchestra, and also with international World music artists such as Yair Dalal, Jafar Hasan Aboud, Maureen Lilanda and Johan Hedin. The band also frequently did school concerts, including together with leading artists performing for children, such as Pytte Ravn (Anki&Pytte) and Nassim al Fakir.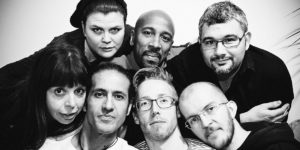 Besides Pär, the members, (who changed a bit over time), were:
Tina Quartey, one of Sweden's most wellknown folk percussionists, who besides playing Afrocuban percussion has played a lot of Swedish folk. Former member of Groupa.
Reza Shayesteh, setar, santoor and daf. Originaly from Iran, usually plays Persian traditional music, and runs a private music school teaching that tradition.
Allan Skrobe, guitar and mandola. Born in Sweden by Croatian parents, he started out as a pop musician, but discovered his Balkan roots through his interest in Swedish folk. Has for several years been a teacher at the Ethno world music youth camp.
Rene Sandoval, bass. René was originally from Chile, and a respected musician both within jazz and traditional music.
Romain Gabourg, electric bass. Romain has his roots in Martinique, but grew up in France. In Sweden, he has for instance cooperated with Sofi Hellborg. Plays with Tarabband.
Tania Naranjo, piano and vocals. Born in Chile. A very respected pianist both within traditional and classical music, who has done a lot of projects in her own name.
Annika Jessen, clarinet and vocals. Originally classically trained, but playing with the klezmer band Tummel put her in contact with traditional music. Also plays with the Danish band Danjál.
Ulrik Brohuus, drums. Ulrik lives outside Copenhagen, and is a very active musician on the Danish scene, playing many different styles from jazz to art rock with bands such as Dánjal, Attaboy etc.
Dawda Jobarteh, kora and vocals. Born in Gambia, but currently lives in Denmark. One of the leading contemporaty kora players, with his own band.
Deodato Siqir, drums. Born in Mocambique. But has been active in Scandinavia for several years, with cd releases in his own name.
The band is no longer active, but the members keep collaborating in different other projects off and on.
Videos from concert at Palladium 2013 with Jafar Alkhaffaff:
Here are a few music samples:
Siri, music by Annika Jessen and Pär Moberg
Polskemedley
Trio Lagerkvist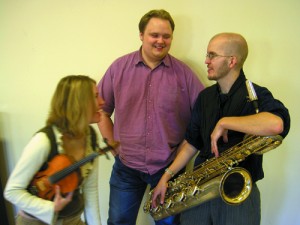 A trio which plays my musical settings of poems written by the great Swedish poet Pär Lagerkvist. In the band, the often harsh and existential poetry of Lagerkvist meets music which is firmly rooted in Nordic folk music, but which also come close both to jazz, singer/songwriter music and pop. The core of the band is me and the singer Anna Elwing, who also plays the violin. Depending on availability and requests from the arranger, the third member could be a pianist or a guitar player.
Samples of the music:
"Jag har gått inunder stjärnor"
"Jag är mull"
"Då bryts murarna ned"