"When the first book ends, I am left with a real cliffhanger, and just can't wait to read part nr two. This is a really marvellous fantasy story." Grade: 4 of 5
Kerstin Hagstrand-Velicu. Swedish Library Magazine, Sept 2017, about Provet i Philipopolis
"Yet another very well told and nerve tickling fantasy story by the author Pär Moberg.  Grade: 5 of 5
Kerstin Hagstrand-Velicu, Swedish Library magazine, Aug 2018, about Scola Kosmomusiologis.
Follow Den högre Musiken on facebook!
Elena is a young girl, who lives in a world not so different from ours about 300 years ago. But in this world, there are people with a special gift, the Spark, who with the help of music can practice magic. As a small child, Elena loses her family to the Soulless – humans who are infested by Silencio (the evil plague that threatens the existance of the World). It is then also discovered that she has the Spark.
In the first book in the Series, "Provet i Philipopolis" (the Philipopolis Examination), we follow her life at the Institute, a boarding school for young music students in Bulgaria. One day, Ahmad, a member of the powerful organisation Oktaven (the Octave), arrives to see if he can find any children with the Spark to bring to Scola Kosmomusiologis, a special school in Sweden for children who have the Spark. In the second novel in the series, "Scola Kosmomusiologis", we follow Elena's life at this school (which is modeled on the existing Svaneholm castle), and her first big struggle against Silencio. The story of Elena is intertwined with those of her fellow students and teachers, but above all with the story of the young boy Boban,  one of her fellow students at the Institute. Boban also has the Spark, but is infested by the Silencio plague by Axes, a powerful man who is deeply caught in the Silencio web. More books in the series are in the making.
"The Higher Music" is a novel series in the fantasy genre for young readers from the age of 10 and above, but can also be read with great appreciation by adults. The author is me, Pär Moberg, I am a freelance musician, composer and pedagogue within folk and world music, but have also been writing text a lot. The books of course deal a lot with music, and hence there's also sheet music of  lots of music pieces referred to in the text, spread out within the book. All music is composed by me, and I have also let a lot of fantastic musicians of different backgrounds record the music, so you can listen to it. Recordings with music from the first and second books are already available for digital distribution, and more music is awaiting release. I have also done an audiobook version of the first book with the Swedish actor Janna Eriksson.
N.B: the books are so far only available in Swedish. Publishers who wish to have the book translated to English or other languages, please contact me!
Part 1. "Provet i Philipopolis"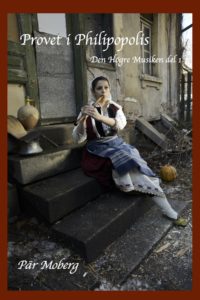 Buy the book as an E-book! (Swedish)
Wanna buy a paper book (Swedish)? email pm at evolvingtraditions.se. The books are 150 SEK each, 250 for both, and payment is possible via invoice or credit card (paypal). Shipping not included.
Listen to the book as an audiobook at Storytel, at Bookbeat, or at Nextory! (Swedish).
Listen to the music at Spotify!
Are you a book store and want to sell the book? You can order it via Bokinfo!
Part 2. Scola Kosmomusiologis

Buy the book as an E-book (Swedish)
Wanna buy a paper book (Swedish)? email pm at evolvingtraditions.se. The books are 150 SEK each, 250 for both, and payment is possible via invoice or credit card (Paypal). Shipping not included.
Listen to the music on Spotify!
Download the music from iTunes!
Are you a book store and want to buy the book? It's available through Bokinfo!
Background
Besides my wish to write fiction and create a fascinating literary world, I have also been motivated by a pedagogical idea. In the life choices of young people, role models are extremely important. Today there's very hard competition between different activities for young people's time, and here the playing of acoustic instruments, which requires quite a lot of time to reach a good level, has a hard time standing it's ground. Where would a young girl today even get the idea to start playing the French horn or the bagpipes? Who will be her great role model, which she can look up to and try to be like?
At the same time, we see that many young people spend a lot of time in, and get very inspired by, different kinds of fictional worlds.  That's how the idea was born in my head, to create a fictional, magic world, where it's the playing of acoustic instruments that is cool and important.  Hopefully, young persons who read the books (or meet this world in other ways) will be inspired to start, or to continue, playing acoustic instruments. Especially in the crucial age of 14 to 15 years when very many children stop playing.
Hopefully, young musicians will also become curious to try and play the music in the book, make their own interpretations of it, and perhaps also start writing their own "fan fiction" (stories happening in the same world) or "fan music". In the future, I hope to create a digital platform for this, where young people (and adults) with an interest in Music can meet and interact in the world of The Higher Music!