[:sv]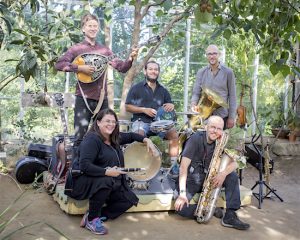 Tummel spelar musik med starka influenser från klezmer (östeuropeisk, judisk musik) och musik från Balkan. Bandet skriver dock till största delen sina egna låtar, och tar också in influenser från många andra håll. Bandet lyckas alltid  med att få upp stämningen på topp med sin energiska scenshow och är ett fantastiskt liveband, men har också fått mycket fin kritik för sina fyra skivor OY! (2001), Transit (2004), Payback Time (2009) och Push (2014). En ny skiva spelas in 2018. Tummel har turnerat flitigt såväl i Sverige som utomlands, och har också varit inblandad i en mängd olika projekt; Skapande Skola, eget musikläger, samarbeten med kulturskolor och blåsorkestrar, och ett stort samarbete med den finska dansgruppen Tsuumi på en gemensam föreställning, "Herd Behavior".
Lyssna på Tummel på Spotify eller Itunes!
SKOLA/FAMILJ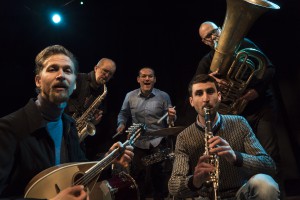 Tummel gör i samarbete med regissören Carl Moberg en kombinerad film och skolföreställning/ familjeföreställning för barn och unga mellan 10 och 18: Flyttfåglar – en berättelse om migration, som tar sin utgångspunkt i bandmedlemmarnas och deras familjers bakgrund, och hur denna är fylld av migration runtom i världen. Man kan läsa om detta här.
Tummel med unga musiker!

Tummel har stor erfarenhet av att spela tillsammans med unga musiker på olika nivåer. För de riktigt unga har vi vårt Tvånotsmaterial, där eleverna bara behöver kunna spela två noter för att vara med, som vi utvecklat i samarbete med El Sistema i Kristianstad (se video ovan!). För de lite mera avancerade har vi materialet Bojan Allstars,  tre låtar som finns arrangerade på flera olika svårighetsnivåer för alla upptänkliga instrument. Det materialet finns utgivet av Gehrmans.
Herd Behavior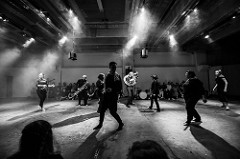 Herd Behavior är en föreställning i gränslandet mellan musik, dans och performance, i vilken publiken är mycket delaktig. Föreställningen problematiserar i ett antal tablåer, "världar", hur mänskligt flockbeteende påverkar oss att skapa magi eller katastrof. Förutom Tummel och dansare från Tsuumi Dance Theatre, så medverkar vid varje föreställning en eller flera lokala "hjordar" som kan ha förberett material som integreras i föreställningen. Ingen scen finns, utan allting sker mitt ibland publiken, som uppmanas att delta och interagera med föreställningen. Fler bilder från premiären i Helsingfors finns här!
Fester och event
"Det var helt fantastiskt att köra upp på gårdsplanen och höra er spela medan gästerna minglade! Er musik bidrog med magi!"
Irina och Lage, brudpar.
Tummel spelar ofta på bröllop, födelsedagar och andra fester, och också på företagsevenemang av olika slag. Vår sprudlande, energiska musik är perfekt för att få igång festen!
Medlemmar i Tummel
Sedan 2015 är Tummel en kvintett, som består av:
Pär Moberg, sax
Paulo Villegas, trummor
Jonatan Ahlbom, tuba
Tobias Allvin, gitarr och bouzouki,
Annika Jessen, klarinett
I "Flyttfåglar" medverkar i stället för Annika den makedonske klarinettvirtuosen Blagoj Lamnjov. Se honom i videoklippen ovan!
Tidigare konserter i urval:
Kommande och nyligen genomförda konserter:
9 mars 2016: Musik i Syds utbudsdag, Malmö.
30 april 2016: Konsert i Helsingfors, Finland, tillsammans med den finska dansgruppen Tsuumi.
13 maj 2016: Företagsgig i Malmö.
1 juni 2016: Företagsgig i Lund
2 -3 juli 2016; spelningar i Kuopio, Finland, tillsammas med dansgruppen Tsuumi. Två offentliga konserter (se info här), samt en spelning på ett flyktingboende. Projektet stöds av Kulturkontakt Nord.
23 juli: privat festgig.
28 augusti: privat festgig.
19 September och 17 oktober 2016: skoföreställningar med Flyttfåglar i Skåne.
16 oktober 2016; Stadsbiblioteket, Båstad.
5 november 2016: Klubb Katuschka, Uppsala
6 november 2016: Klezmer festival. Lund
28 december 2016: privat Hannukah-fest, Köpenhamn
20 januari 2017: privat festgig
27 januari 2017: "Flyttfåglar" framförs på Förintelsens Minnesdag i Burlöv
28 april 2017: Premiär av "Herd Behaviour" med Tsuumi på Valsamofest i Helsingfors. Projektet stöds av Kulturkontakt Nord.
13 maj: spelning på privat fest i Lomma.
1 juni 2017 – Spelning på konferens i Helsingborg.
1 juli: privat festgig
17-18 augusti: skolföreställningar med Flyttfåglar för gymnasiet i Ystad
26 augusti: privat festgig
27-29/9 2017: Skolföreställningar av Flyttfåglar i Ystad för åk 9.
3/12 2017: Vi uppträder tillsammans med en massa unga musiker på Världens julkalas i Kristianstad.
10/3 2018: privat festgig
September 2018: Flyttfåglar-föreställningar i Ystad för högstadiet.
Tummel på Facebook Tummel på Spotify
[cycloneslider id="tummel"]
Vinterbilder av Sampo Kerola, Finland feb 2017. Bild i växthus av Caroline Sverkersson, Mandelmanns Trädgårdar, sept 2016[:en]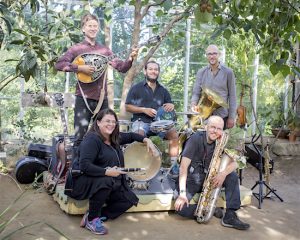 Tummel is the path breaking klezmer and Balkan band that with ever-present energy takes your heart on a bungy jump. Known as a formidable live band, the Tumlers has managed to turn many a crowd into a roaring, shaking, ferocious mega party. With the motto "music for restless souls", the band re-invents the traditional East European music and turns it into something completely their own. The band's albums, OY! (2001), Transit (2004), Payback Time(2009) and Push (2014) have received lots of very enthusiastic reviews. A new cd will be recorded in 2018. Tummel has toured extensively both in Sweden and across Europe, worked with Music schools and orchestras, and also has  done workshops, music camps, and a joint performance together with the Finnish dance group Tsuumi, with the title "Herd Behaviour".
Listen to Tummel on Spotify or on Itunes!
School/Family concerts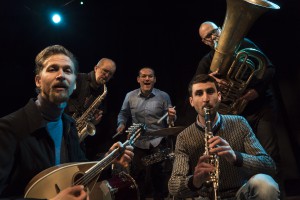 Flyttfåglar (Migrating birds) is a combined film and school concert which tells the story of the band members' and their families' histories, which are all filled with migration, as is the history of Mankind generally. The film is made in cooperation with the director Carl Moberg. The project can also be combined with a workshop where the pupils are encouraged to investigate and share their own family histories.
Tummel with young musicians!

Tummel has great experience in working together with young musicians on different levels. For the really young musicians, we have our Two note songs, where the students only need to know two notes to be able to play along! We have developed this together with El Sistema Kristianstad. (watch video above!) For a bit more advanced students, we have the material Bojan Allstars, three songs that are arranged on differnt complexity levels for all possible instruments. That material is published by Gehrmans.
Herd Behavior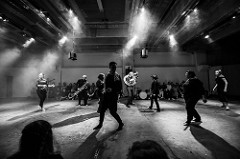 Herd Behavior is a show mixing elements of music, dance and performance, in which the audience take a very active part. The show concists of a number of tableaus, "worlds", where different aspects of human herd behavior, good and bad, is studied and problematized.  Besides Tummel and dancers from Tsuumi Dance Theatre,  every performance involves one or more local "herds", who may or may bring their own rehearsed material into the performance. There is no stage, but the performance takes place right among the audience, which is incouraged to participate and interact with the performance. You can see more pictures from the premiere in Helsinki  here!
Parties and events
"It was totally amazing to drive into the yard, and hear you play while the guests were chatting. Your music contributed with magic!"
Irina and Lage, bride and groom.
Tummel often plays at weddings, birthdays and other parties, and also at corporate events of different kinds. Our joyful, vivacious music is the perfect party starter!
Members
Since 2015, Tummel is a quintet, consisting of
Pär Moberg, saxophone
Paulo Villegas, drums
Jonatan Ahlbom, tuba
Tobias Allvin, guitar and bouzouki
Annika Jessen, clarinet
In Flyttfåglar, Annika is replaced by the Maccedonian clarinet virtuoso Blagoj Lamnjov. Watch him in the video clips above!
A selection of previous concerts:
Upcoming and recent concerts:
9th of March 2016: performance of a teaser for Flyttfåglar, Palladium, Malmö.
30th of April 2016: Performance in Helsinki, Finland together with the Finnish dance company Tsuumi.
13th of May 2016: Corporate event in Malmö.
1st of June 2016: Corporate event in Lund
2nd -3rd of July 2016; gigs in Kuopio, Finland, with the dance company Tsuumi. Two public concerts (see info here), and one gig at a refugee center. The project is supported  by Kulturkontakt Nord.
23rd of July 2016: private event.
28th of August 2016: private event.
19th of September and 17th October 2016: School Performances of Flyttfåglar in Skåne, Sweden.
16th of October 2016; Stadsbiblioteket, Båstad, Sweden.
5th of November 2016: Klubb Katuschka, Uppsala, Sweden
6h of November 2016: Klezmer festival. Lund, Sweden.
28th of December 2016: private Hannukah party, Copenhagen, DK
20th of January 2017: private function, Malmö, Sweden
27th of January 2017: "Flyttfåglar" is performed at the Holocaust Rememberance day in Burlöv, Sweden
28th of April 2017: Premiere fo "Herd Behaviour" with Tsuumi at Valssaamofest in Helsinki, FI. The project is supported by Kulturkontakt Nord.
13th of May 2017: Private function, Lomma, SE.
1st of June 2017: performance at conference, Helsinborg, SE.
1st of July 2017: private function, Malmö, SE
17th to 18th of August 2017: School performances of Flyttåglar for College students in Ystad, SE
28th of August 2017:private function, Torne, SE.
27th to 28th of Sept and 2nd of Oct 2017: School performances of Flyttfåglar in Ystad for High school.
30/9 2017: Tummel celebrates the bands' 20th anniversary  at Babel in Malmö, SE! Arranger is Mix musik.
3/12 2017: We perform together with a lot of young musicians at a Childrens' music day in Kristianstad, SE
10th of March 2018: Private function, DK.
Sept 2018: School performances of Flyttfåglar for High School.
[cycloneslider id="tummel"]
Winter pictures by Sampo Kerola, Finland feb 2017. Greenhouse picture by Caroline Sverkersson, Mandelmanns Trädgårdar, sept 2016[:]