Video from the 20th anniversary of Tummel!
Tummel is the path breaking klezmer and Balkan band that with ever-present energy takes your heart on a bungy jump. Known as a formidable live band, the Tumlers has managed to turn many a crowd into a roaring, shaking, ferocious mega party. With the motto "music for restless souls", the band re-invents the traditional East European music and turns it into something completely their own. The band's albums, OY! (2001), Transit (2004), Payback Time(2009) and Push (2014) have received lots of very enthusiastic reviews. Tummel has toured extensively both in Sweden and across Europe, worked with Music schools and orchestras, and also has done workshops, music camps, and a joint performance together with the Finnish dance group Tsuumi, with the title "Herd Behaviour".
Listen to Tummel on Spotify or on Itunes!
School/Family concerts
Flyttfåglar (Migrating birds) is a combined film and school concert which tells the story of the band members' and their families' histories, which are all filled with migration, as is the history of Mankind generally. The film is made in cooperation with the director Carl Moberg. The project can also be combined with a workshop where the pupils are encouraged to investigate and share their own family histories.
Tummel with young musicians!
Tummel has great experience in working together with young musicians on different levels. For the really young musicians, we have our Two note songs, where the students only need to know two notes to be able to play along! We have developed this together with El Sistema Kristianstad. (watch video above!) For a bit more advanced students, we have the material Bojan Allstars, three songs that are arranged on differnt complexity levels for all possible instruments. That material is published by Gehrmans.
Herd Behavior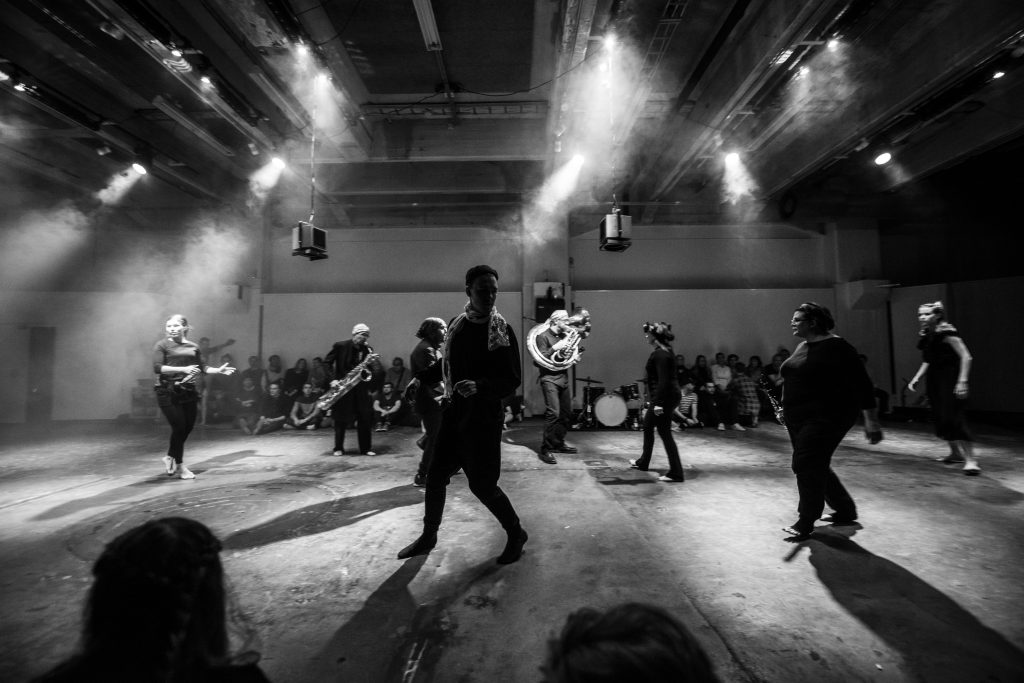 Herd Behavior is a show mixing elements of music, dance and performance, in which the audience take a very active part. The show concists of a number of tableaus, "worlds", where different aspects of human herd behavior, good and bad, is studied and problematized. Besides Tummel and dancers from Tsuumi Dance Theatre, every performance involves one or more local "herds", who may or may bring their own rehearsed material into the performance. There is no stage, but the performance takes place right among the audience, which is incouraged to participate and interact with the performance. You can see more pictures from the premiere in Helsinki here!
Parties and events
"It was totally amazing to drive into the yard, and hear you play while the guests were chatting. Your music contributed with magic!"
Irina and Lage, bride and groom.
Tummel often plays at weddings, birthdays and other parties, and also at corporate events of different kinds. Our joyful, vivacious music is the perfect party starter!
Members
Since 2015, Tummel is a quintet, consisting of
Pär Moberg, saxophone
Daniel Pergament, drums
Jonatan Ahlbom, tuba
Tobias Allvin, guitar and bouzouki
Annika Jessen, clarinet
In Flyttfåglar, Annika is replaced by the Maccedonian clarinet virtuoso Blagoj Lamnjov and Daniel by Danish/Argentinean drummer Fernando Massino.
A selection of previous concerts:
Upcoming and recent concerts:
20th of January 2017: private function, Malmö, Sweden
27th of January 2017: "Flyttfåglar" is performed at the Holocaust Rememberance day in Burlöv, Sweden
28th of April 2017: Premiere fo "Herd Behaviour" with Tsuumi at Valssaamofest in Helsinki, FI. The project is supported by Kulturkontakt Nord.
13th of May 2017: Private function, Lomma, SE.
1st of June 2017: performance at conference, Helsinborg, SE.
1st of July 2017: private function, Malmö, SE
17th to 18th of August 2017: School performances of Flyttåglar for College students in Ystad, SE
28th of August 2017:private function, Torne, SE.
27th to 28th of Sept and 2nd of Oct 2017: School performances of Flyttfåglar in Ystad for High school.
30/9 2017: Tummel celebrates the bands' 20th anniversary at Babel in Malmö, SE! Arranger is Mix musik.
3/12 2017: We perform together with a lot of young musicians at a Childrens' music day in Kristianstad, SE
10/3 2018: private party.
3/5 2018: Flyttfåglar Lund SE.
25/5 2018: Flyttfåglar Hörby SE.
20/7 2018: private party.
4/8 2018: private party.
12/8 2018: concert at Rydsgårdshus SE.
16/8 2018: Concert at Malmöfestivalen SE.
22/8 2018: Flyttfåglar Lund SE.
25/8 2018: private party.
1/9 2018: Concert at Solbyn in Dalby SE.
26/9 2018: concert at a national meeting for the Hospital Church, Lund, SE.
24/10 2018: Flyttfåglar Lund, SE.
10-12/12 2018: Flyttfåglar Ystad SE.
31/3 2019: Concert with the youth choirs of Råå congregation, SE.
17/8 2019: private party.
24/8 2019:private party.
20/9 2019: Showcase event, Musikcentrum Väst, Gothenburg, SE.
26/10 2019: performance with young klezmer musicians at the klezmer festival Klezmezz in Malmö, SE
11/1 2020: Concert at Kulturhuset Anders together with teachers and students from the Music school.
27/1 2020: Holocaust Rememberance day, Malmö
5/2 2020: Flyttfåglar in Lerum, Gothenburg.
10/3: Private party at Purim, Malmö